Images: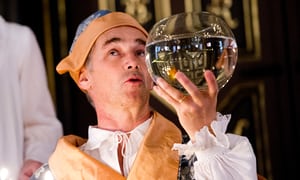 Company/Producers:
Sonia Friedman Productions, Shakespeare's Globe, Paula Marie Black
Website:
farinelliandthekingbroadway.com
Review:
What more can be said in praise of Mark Rylance? He's won three Tony Awards (for Boeing Boeing in 2008, Jerusalem in 2011, and Twelfth Night in 2014). He has an Oscar for best supporting actor for "Bridge of Spies" (2015). And in 2017 he was knighted by HRH Prince William for his contribution to drama. He has the capacity to reach audiences, no matter what role he undertakes. As King Phillipe V of Spain, he is a monarch who teeters on the border of madness and very often seems to go over the edge. He's paranoid, self-pitying, and occasionally even violent. And yet, we feel for him. Rylance grants us the privilege of being able to discern the frightened child beneath the royal robes.
The King cannot sleep. There is no doubt that his extreme insomnia is contributing to his already fragile mental state. How can he possibly live up to his grandfather, France's Louis XIV? As his melancholy increases, and plots are hatched to depose him, his second wife, the devoted Isabella Farnese (Melody Grove) hears the voice of Farninelli (Sam Crane), a celebrated castrato. She recognizes that the King can be soothed by this glorious voice and persuades its owner to come to the Spanish court. King Phillipe is enchanted and becomes dependent on the beautiful singing, which touches him to the heart. He begs the singer to stay with him always, but there are complications. Farinelli has a robust career to consider; and he's fallen for Isabella.
The mood is everything in this production. The stage setting is opulent in keeping with the Baroque over-the-top standard of the day, the 18th century. The stage is kept dim, lit with candlelight. When Phillipe decides they must abandon the palace and live outside, delightful murals descend and surround the scene.
The music, of course, is paramount. Countertenor Iestyn Davies stands on stage, close to Sam Crane, when Farinelli sings. Davies's interpretation of the Handel arias is captivating, but not authentic to the purportedly angelic sound of a castrato's voice. There's no way around this, so we must depend on Rylance to interpret the sheer joy associated with that voice range. The King, himself, realizes that it's ironic that he receives such pleasure from the result of a mutilation of a ten-year-old boy.
Does the device of having actor and singer on stage together really work? It's an interesting concept; the voice and the man are two different entities. But it's also distracting. What exactly is Crane experiencing as Davies sings? It's also a jolt to hear that the King has died. No deathbed scene for Rylance? We feel cheated.
Farinelli and the King would be worth the price of admission just to see Mark Rylance on the Broadway stage again. What a treat it is that this is also a completely unique production, a wonderful ensemble piece that presents art as a healing force. The beginning of Act Two, when Rylance interacts with the audience, is absolutely priceless. The audience leaves the theater transported; we have been allowed to enter a world of enchantment, creativity, and emotionally overwhelming talent.
Cast:
Mary Rylance, Sam Crane, Iestyn Davies