Images: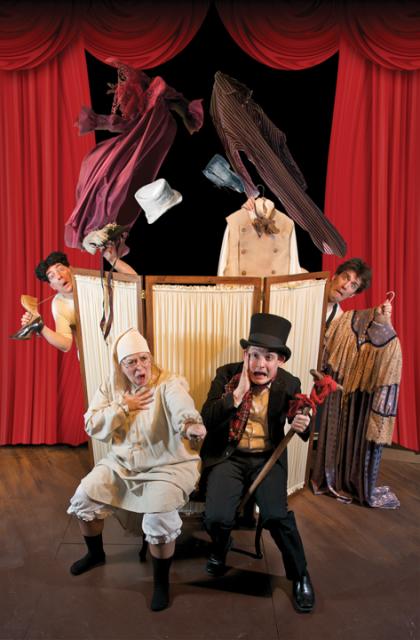 Company/Producers:
In Tandem Theater Company
Review:
In Tandem's co-founder and veteran director Jane Fleiller does it again with Scrooge in Rouge, a comedy loosely based on Charles Dickens's A Christmas Carol.
Rouge is basically a campy send-up of the timeless Christmas tale, with a hilarious twist. Only three actors (out of a large cast) failed to show up for a cast dinner party on the evening prior to opening. So they are the only ones who escaped the food poisoning that made the others ill. In the "spirit" of that old showbiz saying, "the show must go on," the three cast members elect to play all the show's characters.
Scrooge in Rouge , written by Ricky Graham and Jefferson Turner, is only of several holiday productions that In Tandem Theater Company rotates each year. It's safe to say that each of the shows has its fans. To this reviewer, Rouge wasn't nearly as funny as when actor Matt Daniels played Lottie. Nathan Marinan, his replacement, will seem perfectly fine to those who are first viewing the show. And Marinan does have a scary-good soprano voice which comes in handy for several of the song-and-dance numbers.
The show takes place on a lovely vaudeville stage that represents an English music hall. The characters' English accents add to the Dickensian nature of the material, which is frequently (and hilariously) interrupted by odd bits and pieces from other shows. The funniest (to this reviewer) is the "seaside" skit that opens Act II. A swimmer is seemingly "chased" by a shark, etc. while the trio ventures on with an idiotic song that gets funnier and funnier as the moments fly by.
In addition to Marinan, another players is Chris Flieller, a co-founder of In Tandem and its artistic director. Flieller does his "shtick" so well that it seems to be second nature to him. He has performed this role many times. Newcomer Elyse Edelman seemed to still be getting used to the format on opening weekend. One suspects she is far more comfortable with the guys by now.
There are sight gags a-plenty, many of which depend on Kathy Smith's outrageous costumes. Each costume is a gem. The lone backstage dresser must race around to keep everyone in their proper garment (some for less than 30 seconds before a quick-change is needed).
Josh Robinson, the show's musical director, occasionally gets into the act, too. His slightly offstage keyboard is in plain view throughout the performance. Robinson is a fine addition to the production, as well as a necessary one.
Choreographer James Zager puts the cast through their paces as if they are part of a real English music hall show. The show moves so swiftly to its end that audiences may be surprised to learn that two hours have passed. If one hasn't made Scrooge in Rouge part of an annual tradition, now is a good time to start.
Cast:
Chris Flieller (Charlie), Elyse Edelman (Vesta); Nanthan Marinan (Lottie)
Technical:
Set: Linda Freund; Costumes: Kathy Smith; Lighting: Joey Weldon; Sound: Jonathon Leubner.