Images: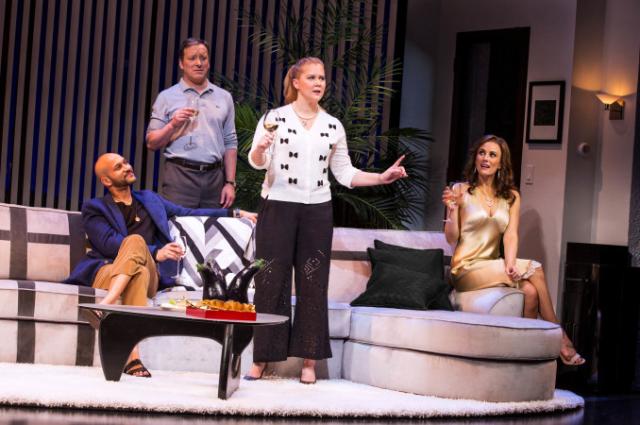 Company/Producers:
Joey Parnes, Sue Wagner, John Johnson
Review:
Meteor Shower is like a high school kid who just works way too hard to be liked. The cast is outstanding; Amy Schumer is simply adorable, Laura Benanti is more beautiful than ever, Jeremy Shamos perfectly captures the nebbish husband, and Keegan-Michael Key nails the self-involved visitor. But every line, every movement, is so hammered home that the show soon becomes more tedious than entertaining.
The premise is cynical to the extreme. The pointedly ordinary Corky (Schumer) and her husband, Norm (Shamos) are about to welcome into their home the exceedingly sophisticated Laura (Benanti) and Gerald (Key). The occasion is the meteor shower of the title; the year is 1993; the location is Ojai, California. Corky and Norm are wrapped up in the self-help craze of the day, constantly assuring each other that they understand one another, and honor whatever babble is being offered up. For reasons which are never explained, Gerald and Laura vow to effect "total collapse" on their unsuspecting hosts.
Laura immediately puts down the sleek, modern house, and insults Corky, too. Gerald is a classic loud-mouth, a braggart who hands over a bottle of wine, and declares it cost $80. The evening is thus doomed from the start. Adding to the confusion of what is happening and why, the opening scenes are played out several times, with equally disconcerting consequences.
Gerald and Laura battle; no sexual innuendo here, the jibes are as off-color as they can be. Laura, in her light beige slip dress, is overtly seductive. Gerald's ego knows no bounds, and Corky is an easy mark. There's plenty of outrageous business; Gerald shooting up onstage and snorting coke is more ridiculous than shocking. Both the "Jeopardy" theme and Beethoven's "Symphony No. 5" are interspersed with the action.
There are some truly amusing lines, and author Steve Martin is tuned in to the California jargon of the day regarding relationships. But everything seems more than a little shopworn and overdone.
The crowd for Meteor Shower is primed to have a fun evening, and laughter starts immediately when the lights go up. But for any comedy, the question is whether or not the show is funny. For me, the answer is "no," but I am clearly in the minority.
Cast:
Amy Schumer, Keegan-Michael Key, Laura Benanti, Jeremy Shamos
Technical:
Set: Beowulf Boritt. Costumes: Ann Roth. Lighting: Natasha Katz. Sound: Fitz Patton