Images: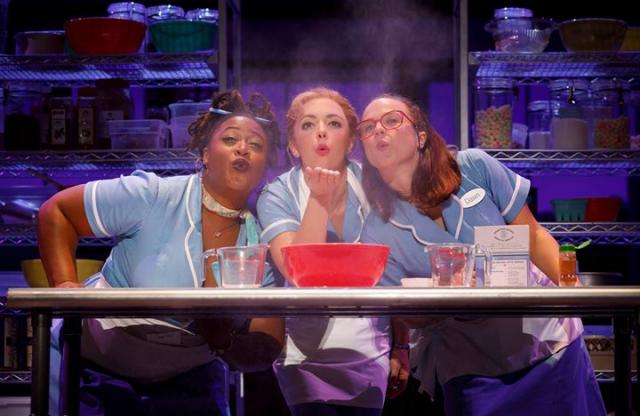 Company/Producers:
Associated Bank Broadway at the Marcus Center + Barry and Fran Weissler, Norton and Elayne Herrick, etc.
Theater:
Marcus Center for the Performing Arts
Review:
Waitress , the national tour starring Desi Oakley as an almost middle-age woman who creates amazingly delicious pies at the local diner, shouldn't expect a generous tip from this critic.
The musical is hackneyed stuff, with the conclusions so easily guessed as the show progresses as to make them anti-climactic. Sara Bareilles' songs are okay, but nothing that will leave you humming while exiting the theater. What makes them rise above the ordinary is Desi Oakley's powerful singing. The show reminds one of the book "The Grapes of Wrath," with its poverty and down-home values put to the test.
Milwaukee audiences seemed to relate to this tale of poor Jenna, who clung to the wrong man when her mother died and her father came home half-pissed every evening. She and Earl have been married for years, and now Jenna yearns to move on. The last thing she wants is Earl's baby, but guess what? A wild night on the town seals her fate.
It's only the other waitresses (a terrific Lenne Klingaman and Charity Angel Dawson) who keep Jenna's head above water. If this show is anything, it's realistic. Jenna is about to have a baby she doesn't want, Dawson (as Becky) trades her Depends-wearing husband for a fling with the café's cook (Ryan G. Dunkin) and timid Dawn (Klingaman) writes an online profile on a dating site.
Dawn is rewarded with a suitor (Jeremy Morse) who is just as goofy as she is. Inspired to off-the-cuff poetry, Morse (as Ogie) comes up short. But he is brave enough to forge ahead and keep at it until the fateful moment when all his words come together. Sort of.
Bryan Fenkart has an uneasy role to fill. Dr. Pommater is entranced by Jenna, which is odd since she is already pregnant when they first meet. Pommer continues to pursue her despite the fact he is hiding secrets of his own. Theirs is as unlikely romance as one could imagine, although perhaps in small towns this type of thing happens all the time?
In any case, Waitress may fill your belly but might leave you with heartburn if you long for more. While it confronts some grim realities in women's lives, it avoids others (such as single motherhood).
Among the "Broadway" moments this show has to offer is the fantastic set and gorgeous lighting that takes the diner crew from early morning to late at night.
This show has plenty of laughs and cute moments, so if this is your cup of coffee, pull up a seat at the diner and watch the antics fly.
Cast:
Desi Oakley (Jenna), Ryan G. Dunkin (Cal), Dawn (Lenne Klingaman, Becky (Charity Angel Dawson), Larry Marshall (Joe).
Technical:
Set: Scott Pask; Costumes: Suttirat Ann Larlarb; Lighting: Ken Billington; Sound: Jonathan Deans.