Theater:
Villa Terrace Decorative Art Museum
Review:
For its second offering, one of Milwaukee's newest theater companies, All in Productions, tackles Neil LaBute's The Shape of Things. The production does a worthy job of presenting LaBute's take on modern society.
The Shape of Things revisits a theme that will be familiar to audiences who have seen other LaBute works, such as reasons to be pretty and Fat Pig. LaBute warns us that physical perfection is unattainable; yet it is seen everywhere in the Photoshopped images of models in magazines, on billboards, etc. The result? We long to become a fantasy, forgetting that the most important part of us lies within.
The 2001 play was produced at New York's Promenade Theater. It was made into a 2003 film with Paul Rudd ("Anchorman" series, "The 40-Year-Old Virgin"). One of the play's Big Questions is, "What Is Art?," so it's fitting that the Milwaukee production is being staged in the ballroom of a former home-turned-art museum.
The conceit behind The Shape of Things is a girlfriend's triumphant "makeover" of her nerdy boyfriend. She's a graduate art student studying at a small, fictional Midwestern college; he's a part-time art museum security guard who also attends the college as an undergraduate. They meet in the museum, where the girl decides to deface a museum sculpture with a spray can of paint. He sheepishly tries to stop her. Soon, however, he asks her out. What do you expect when these characters are named Adam and Eve(lyn)?
From the beginning, their relationship is filled with red flags. Evelyn is determined to remake her guy into something more attractive. She gets him to change his hairstyle, use contact lenses, go to the gym, start eating right, and to stop biting his fingernails. LaBute, who loves to veer into the ridiculous, even goes so far as to make Adam get a nose job. As the piece de résistance, he tattoos Evelyn's name on a private body part. It's no wonder that, when asked about his devotion to Evelyn, Adam meekly claims, "Boy, I'm so whipped." Ya think?
The other male/female couple in the play is composed of Adam's long-time friends. They are impressed by Evelyn's changes. The sweet-natured Jenny, who admits she tried years ago to get Adam to ask her out, is particularly glad to see the "new Adam." The sticking point is that she and Phillip, Adam's former roommate, are now engaged. During a double date they divulge their goofy plan to get married underwater. They seem more preoccupied with the details of their wedding than their lifetime commitment.
Phillip, the eternal frat-boy, is a domineering brute who obviously prefers sports to art or literature. He and Evelyn pick a fight, and the evening ends. Jenny attempts to ease Phillip's anger.
Director Layna Martinez allows quite a bit of latitude in how the actors interpret their roles. As a result, J.T. Backes (Adam) is meeker and dorkier in the beginning than is probably necessary. Likewise, Phillip (Evan Koepnick) is played far more broadly than the rest of the characters. It's only when Philip and Adam have a heart-to-heart later in the show does Koepnick calm down to the point where he becomes believably human.
All four of these actors are young, promising newcomers. They strike a nice balance between the play's poignant and funny moments. As Evelyn, the play's catalyst, Tess Cinpinski impresses as she increasingly dominates Adam's life. As she gently prods Adam through his makeover, Cinpinski cleverly hides the motives behind her actions – until the final scene, that is.
As Jenny, Andi Jaspersen is marvelous throughout. During one scene, she convincingly changes from the demure, small-town girl to one who develops a backbone. She takes Evelyn to task for her bad behavior and, in doing so, demonstrates the kind of confidence one doesn't expect.
In this makeshift stage setting (an art museum), the lighting and sound are appropriate. The costumes are much better, especially those that demonstrate Adam's transformation from nerd to Abercrombie newbie.
One small quibble: this reviewer would have liked to see Adam in a wig at first, in order for him to more realistically convey this part of his transformation. (Adam's haircut is a frequent subject of conversation between the other three characters). In the final scene, which includes Adam's "before" and "after" photos, this would have been particularly helpful.
Although the play's ending is a bit flat, The Shape of Things already has raised some thoughtful questions about the nature of love and art. This production is definitely worth checking out during the play's brief run.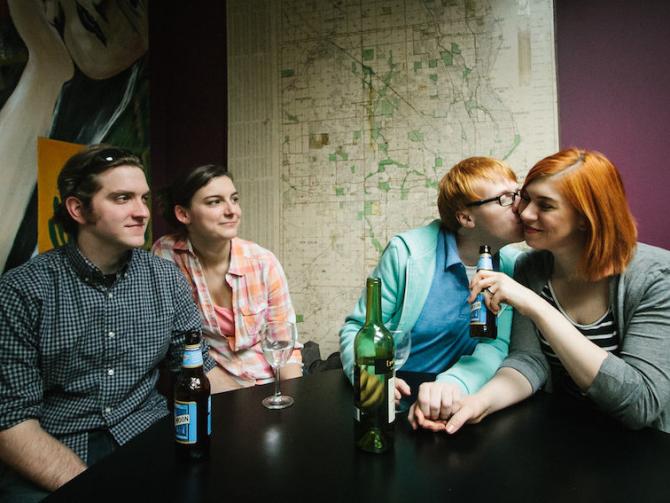 Evan Koepnick, Andi Jaspersen, J. T. Backes and Tess Cinpinski in The Shape of Things
Cast:
J.T. Backes (Adam); Tenn Cinpinski (Evelyn); Andi Jaspersen (Jenny); Evan Koepnick (Phillip).
Technical:
Set: Emily Pomplum; Costumes: Levi Miles; Lighting: Liz Berndt.