Ended:
open run (as of April 2014)
Company/Producers:
Disney Theatrical Productions
Review:
Aladdin has it all; there's glitz, glamour, and sheer laugh-out-loud fun mixed with moments of lyrical beauty and real warmth. At the heart of the story is the question of who determines our worth in this world. The title character is a street urchin whose poverty has driven him to steal and to lie. He's told he's worthless, and he fights hard not to believe that unfair assessment. His heart is pure, and he dreams of living a better existence.
Meanwhile, Princess Jasmine questions why she should be married off to her father's suitor of choice; why can't she rule the land herself, and if she chooses, not marry at all? Both Adam Jacobs and Courtney Reed are so attractive and appealing, it's no wonder that Aladdin and Jasmine fall in love immediately and find that, despite their differences, they're kindred spirits.
Of course, all this takes place while around them swirls an Arabian Nights-gone-Hollywood cornucopia of gorgeous, flashy costumes in brilliant hues of purple, orange, green and yellow. Things really explode into over-the-top opulence in the golden cave where Aladdin finds himself trapped. We know, of course, that when the magic lamp is rubbed, the Genie will appear. But nothing prepares us for the totally over-the-top, razzle dazzle of James Monroe Iglehart, a giant talent of a Genie who takes the party to a whole new level. Through him, we are transported along with "Al" not just to a different level of entertainment, but to a different dimension.
Armed with the magic of the Genie, Al styles himself as a prince, and with his three companions in petty crime, he heads for the palace, determined to be the one Jasmine will fall in love with and marry. But in order to do this, Al will have to outwit the evil Jafar, who has his own designs on the throne. Jonathan Freeman also voiced Jafar in the animated version of the story, and why not? He's moustache-twirling perfection, and his sinister laugh could curdle milk. Close by his side is his obsequious, wise cracking companion Iago, the hilariously villainous Don Darryl Rivera.
No spoiler alert is needed to say that the happily ever after for which we all hope comes about in splendid style. This is the ultimate in Disney entertainment; it's great to see the money on the stage and to experience top quality production values all around. The audience is delighted by hearing familiar tunes presented in a creative and often unexpected way, and the in-jokes and current references are both silly and topical. The action is fast paced and continuous; the gags whiz by at breakneck speed; the sets, costumes, and performers are universally gorgeous; and the uplifting tone of the evening leaves everyone feeling stress free and in a benevolent mood.
As one of the few people on the planet who's never seen the movie, I can assure you that this show holds up perfectly well on its own. And along with all the fun, there are some serious points being presented. At the performance I attended, little girls in the audience cheered when Jasmine expressed her views on female empowerment. Seated a couple of rows behind me was a woman who wore a hijab, the traditional Arab head covering. At the beginning of the evening, she seemed apprehensive. By the end of the night, she was smiling. It made me realize that for most Americans, it's been a long time since we've seen Arab culture – albeit as loosely interpreted as this is – in a positive, affectionate light.
Aladdin is that big Broadway show everyone can attend and enjoy. And if it brings us a little closer to "A Whole New World" of understanding that we should look beyond outward appearances and not make snap judgments based on how someone may look, then all the better.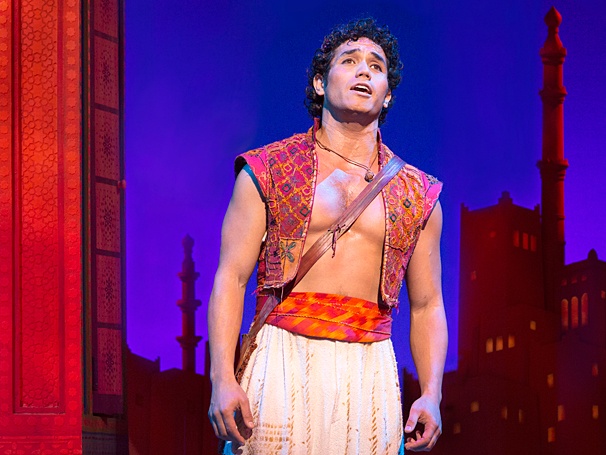 Cast:
Adam Jacobs (Aladdin), James Monroe Iglehart (Genie), Courtney Reed (Jasmine), Brian Gonzales (Babkak), Brandon O'Neill (Kassim/Spooky Voice/Voice of the Cave), Jonathan Schwartz (Omar), Clifton Davis (Sultan), Don Darryl Rivera (Iago) and Jonathan Freeman (Jafar).
Technical:
Set: Bob Crowley. Costumes: Gregg Barnes. Lighting: Natasha Katz. Sound: Ken Travis. Hair: Josh Marquette. Illusions: Jim Steinmeyer. Fight Dir: J. Allen Suddeth. Dance Music Arr: Glen Kelly. Makeup: Milagros Medina-Cerdeira.
Other Critics:
TOTALTHEATER Dave Lefkowitz 4/14 ? Richmond Shepard 4/14 !