Ended:
open run (as of Nov. 2015)
Company/Producers:
James L. Nederlander; Estefan Enterprises, Inc.; Bernie Yuman
Review:
On Your Feet can be enjoyed in several different ways. First and foremost, it's the story of Gloria (Ana Villafane), a gifted singer who met the right man at the right time. Emilio Estefan (Josh Segarra) had the vision of taking the Latin sound into the mainstream of American music, and in Gloria, he recognized the drive and the talent needed to make that happen.
This is also about the journey of immigrants to this country. Emilio was sent to the U.S. to escape the persecution his family feared after Batista was ousted and Castro took over in Cuba. He is confronted by an attitude that would, in a lesser man, restrict his access to mainstream America. There is resonance with many audience members when Emilio tells a producer, "Look at my face; this is what an American looks like," and applause fills the house. For those who wish, this is a cavalcade of great song hits, and the story isn't even necessary: "Anything For You," "Conga," "Don't Wanna Lose You;" the hits just keep on coming.
The cast is nothing less than superb. Villafane looks and sounds like Gloria, but the passion with which she delivers the music is strictly her own. Every lyric means something. Segarra is outrageously handsome and charming, and the chemistry between the two stars is dynamite. They are a mighty team. The warmth of Alma Cuero makes Consuelo an audience favorite, and Andrea Burns has created a complex and intriguing character in Gloria's disapproving mother, also named Gloria.
The dancing is highly polished but with a raw edge. Nothing less could be expected from Sergio Trujillo. Director Jerry Mitchell has struck exactly the right note; the production never lags. Costumes not only fit the moment, they are dazzling. The glorious spangled copper dress Burns wears to sing in a Havana club is a knockout.
On Your Feet proves especially timely, now that it seems the U.S. and Cuba are about to resume normal diplomatic relations. The Latin community must take pride in this portrayal of Hispanic characters, who started with very little, but ended up wealthy and respected. It's important to recognize that this is the land of opportunity, and with a lot of hard work, some luck, and an overwhelming amount of talent, anyone can achieve the American dream.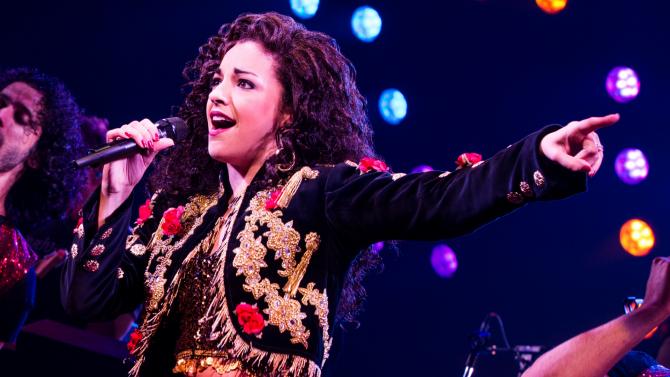 Cast:
Ana Villafane (Gloria Estefan), Josh Segarra (Emilio Estefan), Andrea Burns (Gloria Fajardo), Alma Cuervo (Consuelo), Alexandria Suarez (Little Gloria), Eduardo Hernandez (Young Emilio)
Technical:
Set: David Rockwell; Costumes: Emilio Sosa; Lighting: Kenneth Posner; Sound: Steve Kennedy