Images: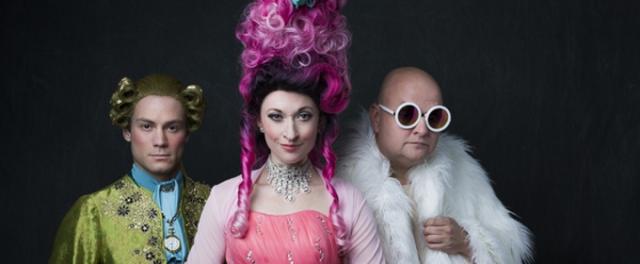 Review:
For a play without much drama, freeFall presents a historical central character without enough dramatization of her historical milieu. Though there are projections aplenty to each side of a long stage and some talk of the world outside Marie Antoinette's palaces and gardens, author David Adjmi keeps her in a bubble. Director Eric Davis busily floats it up from the marble slab of a center aisle that's her playing space.
Though compelling Megan Therese Rippey goes all out to make Marie real, she's basically forced to play an anti-heroine playing at being a queen and even herself. It takes Act II to make the outside world real — and not just to her.
The character who ties the two together is not Marie's husband but a sheep who philosophizes. Matthew McGee distinguishes himself in this difficult role, blending comedy with great seriousness.
Lucas Wells, unconcerned about anything but clocks as young Louis XVI, makes the most of his limited time to be an attractive, full-grown King. The Dauphin, well portrayed as a normal boy by Will Garrabrant, gives a bit of credence to Marie as a mother, if only being dutiful.
Heather Baird is a fine, active Queen's aristocratic confidante, sometimes aided by Ariel Reich. Both women double later as commoners. In multiple roles, Stephan Jones and Haulston Mann play a range from super-sexy guard to executioner. Both also make potent Revolutionaries.
Director Eric Davis obviously means for his work to dazzle, and David Covach's sumptuous costumes (the women skirted in finery but with contemporary tee shirts) present frills of the past topped with the suggestion of relevance today. Parker Lawhorne provides the tall, frivolously decorated hair-dos for which Marie Antoinette was famous, not without a few nicely exaggerated touches.
Cody Basham manages starkly contrasting lighting from palaces and Hameau to prison starkness and execution preparations. Nicholas Mathis's important props stand out, particularly those atop clear acrylic furniture. All are moved on and off the stage without a hitch.
At freeFall, the production overwhelms the play. That may be due to the lack of significant drama in David Adjmi's script. Still, it's almost all interesting to look at, and one can't fault the performances.
Cast:
Megan Therese Rippey, Heather Baird, Will Garrabrant, Stephan Jones, Haulston Mann, Matthew McGee, Ariel Reich, Lucas Wells
Technical:
Set: Eric Davis; Costumes: David Covach; Lights: Cody Basham; Wigs: Parker Lawhorne; Props: Nicholas Mathis; Asst. Lighting: Mary Whitener; Stage Mgr: Sarah Smiley