Images: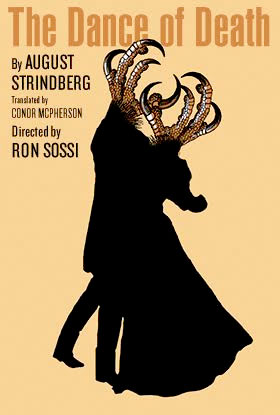 Theater Address:
2055 South Sepulveda Boulevard
Review:
August Strindberg died in 1912. One hundred years later, a small theater in London mounts Conor McPherson's version of The Dance of Death, which the Swedish playwright had written in 1900. Now the Odyssey has produced McPherson's rewrite of Dance, which one British theatre critic has described as "flintily sharp, caustically comic."
McPherson hasn't changed the play all that much, just pared it down by eliminating one character (the servant), dropping the dream sequences and the impact of a violent storm.
The focus is on the triangle at the heart of the narrative: the relationship between Captain Edgar (Darrell Larson), his wife Alice (Lizzy Kimball), and Alice's cousin Kurt (Jeff LeBeau). They are a treacherous threesome locked in a ferocious battle of wills.
The setting is an island fortress near a Swedish port (gloomy, prison-like set by Christopher Scott Murillo). The cantankerous, hard-drinking Edgar rules over the army garrison with a heavy hand, making enemies not just of his soldiers but everyone else in town. His biggest enemy, of course is Alice, a former actress stuck in this provincial outpost with a husband she has come to despise.
Edgar and Alice have been married for twenty-five mostly hellish years. They now spend most of their time bickering with each other, trading taunts and insults with venomous glee. Just when you think, though, that they're about to commit murder, a joke comes to their lips and they burst out laughing. The orchestration between light and dark, humor and despair, is the key to Strindberg's genius as a playwright.
Standing between Edgar and Alice is Kurt, a doctor who has arrived on the island (after an American sojourn) to serve as a quarantine officer. Kurt is an important character, a well-meaning but weak man who one minute sides with his cousin Alice, the next with the bullying Edgar. LeBeau does a splendid job of capturing the many sides of this complex character.
Larson and Kimball are also to be commended for their work in Dance of Death; they are completely believable as the dysfunctional Edgar and Alice, tearing into each other cruelly and unmercifully like a couple of gargoyles, only to suddenly switch gears and reveal their humanity, their weaknesses and fears–-and (surprise!) their long-forgotten but still-flickering love.
Many writers have commented on the influence Strindberg's writing has had on such contemporary playwrights as Beckett, Pinter and Albee (Who's Afraid of Virginia Woolf? could almost have been called "The Dance of Death"). Thanks to McPherson and, above all to director Ron Sossi, who has worked miracles with this production, Strindberg's importance and power can be felt viscerally once again.
Cast:
Lizzy Kimball, Darrell Larson, Jeff LeBeau
Technical:
Set: Christopher Scott Murillo; Costumes: Halei Parker; Lighting: Chu-Hsuan Chang; Sound: Christopher Moscatiello; Props: Misty Carlisle