Images: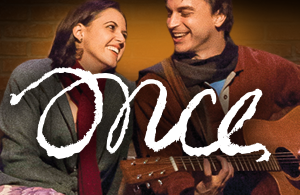 Theater:
Florida Studio Theater - Gompertz
Review:
Once is a boy-meets-girl yet unusual love story set in Dublin, Ireland, to Irish and Czech music. It takes place mostly in a bar and areas not far away from it. With the exception of the Girl's little girl, everyone in the musical replaces any usual orchestra by being a sort of self-directed band. Their rambunctious performing starts with welcoming audiences onstage to buy and enjoy a drink while they flit and play and sing before settling into theater seats for the drama.
Ben Paul Williams is the good looking, sincere Irish street singer and guitarist Boy lead, whose current songs are about his love having left him for someone in New York. He repairs vacuum cleaners and when Girl's vacuum goes on the fritz, they get together. A Czech, Elizabeth Nestlerode's attractive, plucky Girl is on retreat from marriage, trying to raise a daughter (Nya Chambless or Olivia Schaedler-Luera alternately). She would like to make a living playing her own piano.
Girl, struck by Guy's love songs, begins to encourage him to realize his almost abandoned dream and they start "Falling Slowly" into love. What will come of their musical ambitions and will their romantic relationship be "Gold" or non-precious metal? What happens will be affected by, and witnessed by, the actor-musicians-singers in the ensemble.
A mix of nice-enough Irish tunes and Czech folk songs expresses the build-up of hope both for the principals, their families (James Young's Da, Emily Mikesell's grandmotherly Baruska) and people like a bank manager (Paul Lincoln), a record maker (Kent M. Lewis), a young nobody as yet (Seth Eliser's Andrei), a show-off (Grant Alan Watkins's Svec), and an emcee (Nick Lerangis).
Lively Sara Hund once again distinguishes herself at FST, mostly as violinist Reza. The pub's predominant if flappable personality is undoubtedly Chris Blisset's Billy. Lauren Wainwright contributes to the pub's musicians and proves likeable as Boy's ex-girlfriend. All who dance do so for the most part spontaneously, so "choreography" is apt to be different at different performances. It went ever-so-bustling for most of opening night.
Jeff Dean's set is serviceable, but it is Thom Beaulieu's outstanding overall lighting that also makes changes of scene possible, blotting out the static pub bar. Some small side projections don't seem necessary but aren't obtrusive. Costumes fit everyone's characters. Sound nicely suffices. There could be a bit more work, though, on dialect. Some of the Irish got muted, stagey, or even forgotten at times through the first performance but should be more accurate and uniform with further practice.
Cast:
Ben Paul Williams, Elizabeth Nestlerode, Chris Blisset, James Young, Lauren Wainwright, Seth Eliser, Sarah Hund, Grant Alan Watkins, Emily Mikesell, Nya Chambless or Olivia Schaedler-Luera, Paul Lincoln, Nick Lerangis, Kent M. Lewis
Technical:
Set: Jeff Dean; Costumes: Susan Angermann; Lights: Thom Beaulieu; Sound: Thom Korp; Dialect Coach: Greg London; Stage Mgr: Roy Johns