Images: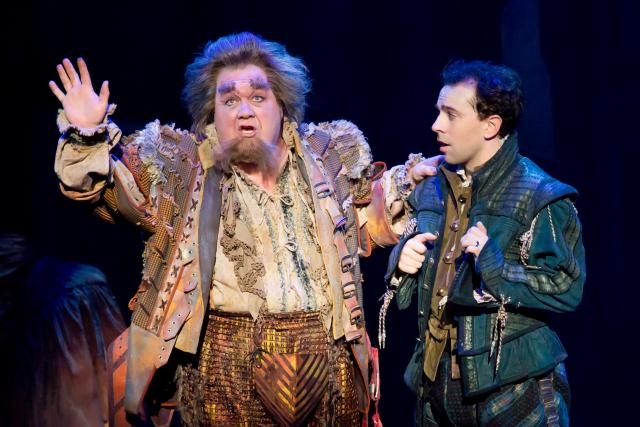 Company/Producers:
National Tour at Center Theater Group
Review:
Something Rotten is the funniest, most entertaining musical Los Angeles has seen in many a year. Developed by Seattle's 5th Avenue Theater, a hit on Broadway two years ago, Something Rotten! got a standing ovation (for its road company) on its opening night at the Ahmanson—not at the at the conclusion of the show but during its second musical number!
An obvious crowd-pleaser written by the brothers Wayne and Karey Kirkpatrick, directed by Casey Nicholaw, the musical pokes outrageous, slightly campy fun at Renaissance England, when Will Shakespeare (Adam Pascal) was the equivalent of a rock star—and dressed like one (courtesy of Gregg Barnes' glitzy costumes.) His jealous competitors, Nick and Nigel Bottom (Rob McClure and Josh Grisetti, respectively), are desperate to come up with a story that will steal Will's thunder. After some ludicrous tries, they decide on "Omlette," a play with eggs and a Danish. That being of insufficient originality, they then decide — with the help of the fortune-telling Nostradamus (Blake Hammond) — to add songs to the show. Voila, the modern musical is born (and celebrated with a number that pokes fun at Cats, Fiddler and Phantom.
Some of the other important characters include Shylock (Joel Newsome), Minstrel (Nick Rashad Burroughs), and Brother Jeremiah (Scott Cote), a preacher who would like to consign all sinful theatre-goers to the fires of hell. Jeremiah has a daughter, though, named Portia (Autumn Hurlbert) who secretly loves the arts and falls wildly (and a bit drunkenly) in love with Nigel. "To Thine Own Self Be True" she sings to him in Scene Four of Act Two—and thereby inspires him and his manic brother to outdo Shakespeare.
Among the other raffish members of the cast are Nick's wife Bea (Maggie Lakis) and the limp-wristed Lord Clapham (Jeff Brooks), the royal patron of the company. Everyone on stage in Something Rotten!, and that includes the ensemble, acts, sings and dances up a storm in number after number, powered by a red-hot, 12-person band led by Brian P. Kennedy.
There's nothing rotten about this show; it's sheer, fresh, madcap fun from beginning to end.
Cast:
Rob McClure, Josh Grisetti, Maggie Lakis, Blake Hammond, Autumn Hurlbert, Scott Cote, Jeff Brooks
Technical:
Set: Scott Pask; Costumes: Gregg Barnes; Lighting: Jeff Croiter; Sound: Peter Hylenski;