Images: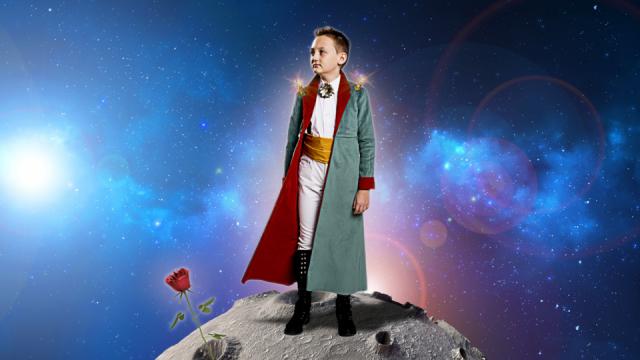 Review:
One of the most popular books ever written, The Little Prince has been adapted into every medium. The version at freeFall is a fine stage example and translation from the original French, appropriate for audiences from children to adults. That's important for a story about an adult Aviator who crashes and meets on a planetary desert a young boy Prince with whom he'll learn about life, love, and responsibility.
Projected on the scenic background, the Aviator's drawings reflect attempted answers for the young Prince's questions as well as atmosphere and, when needed, corrections of previously held mental or even physical images. The drawings do not copy Saint-Exupery's illustrations but reflect their spirit and illuminate the text.
At start and end, Michael David as a Narrator articulates well the situation and his feelings about his adventure as the Aviator. Frustrated by inability to quickly get his plane in order, David as Aviator conveys throughout his physical thirst and that to find out more and more about the boy and answers to mysteries about life away from and later on Earth.
Always at ease onstage, Will Garrabrant makes a delightfully inquisitive Prince. As he learns about men who will do him no good and how he should treat his beloved Rose, his responses seem to be a part of wisdom Garrabrant possesses and values. He's aided not only by Aviator but also by Trenell Mooring's smooth, unflinching Snake and finally by Mooring's impressive Fox.
Carolina Esparza communicates strongly by her Spanish dancing as well as by holding up symbolic IDs. Prince's being at first suspicious of her indicates how given one may be to be wary of foreigners. She appropriately usually accompanies Snake and Fox, the latter having learned to fear encounters with all who carry guns.
Jacking up the bulk of Act II in stupendous costumes and using Nickolas Mathis's on-the-mark props, Logan Wolfe portrays various Men on the Planets who exhibit mainly negative qualities. Wolfe's a King with no one to rule — a drunk who drinks for escapism from not drinking, a geographer tied to a desk and shunning even the idea of going to see anything outside, a business man who does nothing but count his ownings.
The only one Prince likes a bit is Lamplighter, who continually does nothing but obey orders to put on and then douse out the light on a street lamp. The satirical meaning of this man may be debated, but maybe Prince's feelings are due to his learning of the need to accept responsibility. In Prince's case, though, that is meant for the Rose he loves and, by his love, makes unique.
With a small cast to present various characters, Eric Davis's costumes are an important addition to his directorial vision. He's a wonder in all his capacities.
I asked several children what they thought of the play, and all responded positively. My favorite comment came from the girl I judged a seventh or eighth grader. "It was magical," she said. And she'd had no coaching. Enough said.
Cast:
Michael David, Will Garrabrant, Trenell Mooring, Carolina Esparza, Logan Wolfe
Technical:
Props: Nickolas Mathis; Costumes, Video & Sound: Eric Davis; Lighting: Cody Basham; Stage Manager: Sarah Smiley