Welcome to WHAT'S NEW on TotalTheater.com!
 Look here for the latest articles and reviews published on TotalTheater.com, the newest episodes of the Dave's Gone By radio program, and other activities sponsored by TotalTheater.
 Next Dave's Gone By radio show:
Sat, Nov. 28, 2015: 9am-noon(MT) / 11am-2pm(ET): live on uncradio.com, #534: "Speak, Speak, Sweet Charlotte" - Featuring: Rabbi Sol Solomon interviews actress CHARLOTTE RAE ("The Facts of Life," The Threepenny Opera). Greeley Crimes & Old Times, Inside Broadway, Saturday Segues (Randy Newman, Allan Sherman), Dylan - Sooner & Later, and more!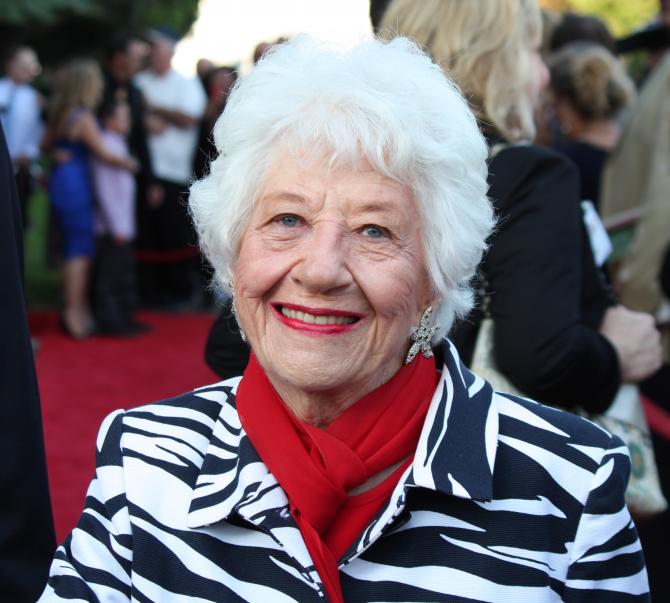 Listen to Dave's Gone By episode #533 ("Imperial Headroom"), aired 11/21/15 –Featuring: Rabbi Sol Solomon chats with singer Little Anthony.  Plus: Inside Broadway (NYC reviews), Greeley Times, Dylan – Sooner & Later (more Cuting Edge), My Sick Mind (Charlie Sheen), Saturday Segues (revenge, In the News).
For Rabbi Sol Solomon, visit ShalomDammit.com
For The Miracle of Long Johns, visit miracleoflongjohns.com

Performing Arts Insider, the bible of Broadway for 71 years, now has a Facebook page!

The American Theater Critics Association in New York (auth: Charles Giuiliano) 11/15
The American Theater Critics Association at Sardi's (auth: Charles Giuliano) 11/15
Chicago Fall Theater Preview (auth: Mary Shen Barnidge) 9/15
The Creative Team for A Confederacy of Dunces in Boston (auth: Charles Giuliano) 11/15
The Larry Kramer Story - A Documentary Made in Love & Anger (auth: Ellis Nassour) 6/15
More Bad News in Boston Theater (auth: Charles Giuliano) 10/15
Take Home Broadway - on Disc! (auth: Ellis Nassour) 6/15
BROADWAY
Aladdin (New Amsterdam Theater, rev: Elizabeth Ahlfors) open run
Aladdin (New Amsterdan Theater, rev: Michall Jeffers) open run
Aladdin (New Amsterdam Theater, rev: Jeannie Lieberman) open run
Aladdin (New Amsterdam Theater, rev: Richmond Shepard) open run
Aladdin (New Amsterdam Theater, rev: Elyse Trevers) open run
An American in Paris (Palace Theater, rev: Michall Jeffers) open run
An American in Paris (Palace Theater, rev: Marie J. Kilker) open run
Beautiful: The Carole King Musical (Stephen Sondheim Theater, rev: Edward Rubin) open run
Beautiful: The Carole King Musical (Stephen Sondheim Theater, rev: Jeannie Lieberman) open run
The Book of Mormon (Eugene O'Neill Theater, rev: Richmond Shepard) open run
Chicago (Ambassador Theater, rev: David Lefkowitz) open run
The Curious Incident of the Dog in the Night-Time (Barrymore Theater, rev: Elizabeth Ahlfors) open run
The Curious Incident of the Dog in the Night-Time (Barrymore Theater, rev: Michall Jeffers) open run
The Curious Incident of the Dog in the Night-Time (Barrymore Theater, rev: Richmond Shepard) open run
Dames at Sea (Helen Hayes Theater, rev: Marie J. Kilker) open run
Dames at Sea (Helen Hayes Theater, rev: Elizabeth Ahlfors) to 1/3/16
Dames at Sea (Helen Hayes Theater, rev: Michall Jeffers) to 1/3/16
Finding Neverland (Lunt-Fontanne Theater, rev: Michall Jeffers) open run
Fool for Love (MTC at Samuel J. Friedman Theater, rev: Michall Jeffers) to 12/6/15
Fool for Love (MTC-Samuel J. Friedman Theater, rev: Elizabeth Ahlfors) to 12/13/15
Fun Home (Circle in the Square, rev: Anne Siegel) open run
A Gentleman's Guide to Love and Murder (Walter Kerr Theater, rev: Elizabeth Ahlfors) open run
A Gentleman's Guide to Love and Murder (Walter Kerr Theater, rev: Michall Jeffers) open run
A Gentleman's Guide to Love and Murder (Walter Kerr Theater, rev: Richmond Shepard) open run
A Gentleman's Guide to Love and Murder (Walter Kerr Theater, rev: Elyse Trevers) open run
The Gin Game (John Golden Theater, rev: Elizabeth Ahlfors) to 1/10/16
Hamilton (Richard Rodgers Theater, rev: Charles Giuliano) open run
The King and I (LCT - Vivian Beaumont Theater, rev: Michall Jeffers) open run
King Charles III (Music Box Theater, rev: Michall Jeffers) to 1/31/16
Kinky Boots (Al Hirschfeld Theater, rev: Elizabeth Ahlfors) open run
Kinky Boots (Al Hirschfeld Theater, rev: Scott Bennett) open run
Kinky Boots (Al Hirschfeld Theater, rev: Glenn Loney) open run
Kinky Boots (Al Hirschfeld Theater, rev: Richmond Shepard) open run
The Lion King (Minskoff Theater, rev: David Lefkowitz) open run
The Lion King (Minskoff Theater, rev: Ellis Nassour) open run
The Lion King (Minskoff Theater, rev: Simon Saltzman) open run
Matilda (Shubert Theater, rev: Elizabeth Ahlfors) open run
Matilda (Shubert Theater, rev: Richmond Shepard) open run
Misery (Broadhurst Theater, rev: Michall Jeffers) to 2/14/16
Old Times (Roundabout-American Airlines Theater, rev: Michall Jeffers) to 11/29/15
Old Times (Roundabout-American Airlines Theater, rev: Elizabeth Ahlfors) to 11/29/15
On Your Feet (Marquis Theater, rev: Michall Jeffers) open run
The Phantom of the Opera (Majestic Theater, rev: David Lefkowitz) open run
The Phantom of the Opera (Majestic Theater, rev: Jeannie Lieberman) open run
The Phantom of the Opera (Majestic Theater, rev: Ellis Nassour) open run
Something Rotten! (St. James Theater, rev: Steve Cohen) open run
Something Rotten! (St. James Theater, rev: Michall Jeffers) open run
Sylvia (Cort Theater, rev: Michall Jeffers) to 1/24/16
Something Rotten! (St. James Theater, rev: Marie J. Kilker) open run
Sylvia (Cort Theater, rev: Michall Jeffers) to 1/24/16
Therese Raquin (Roundabout at Studio 54, rev: Michall Jeffers) to 1/3/16
Wicked (Gershwin Theater, rev: Steve Cohen) open run
Wicked (Gershwin Theater, rev: David Lefkowitz) open run
Wicked (Gershwin Theater, rev: Richmond Shepard) open run
Wicked (Gershwin Theater, rev: Anne Siegel) open run
OFF-BROADWAY
Avenue Q (New World Stages, rev: David Lefkowitz) open run
Avenue Q (New World Stages, rev: Richmond Shepard) open run
Blue Man Group (Astor Place Theater, rev: David Lefkowitz) open run
Boogie Stomp (Elektra Theater, rev: Richmond Shepard) open run
Colin Quinn - The New York Story (Cherry Lane Theater, rev: Michall Jeffers) to 1/31/16
Cronica de una muerte anunciada (Repertorio Espanol, rev: David Lipfert) open run
Daddy Long Legs (Davenport Theater, rev: Michall Jeffers) open run
Eric Yves Garcia: Pour Spirits (Metropolitan Room, rev: Richmond Shepard) to 11/25/15
The Fantasticks (Snapple Center, rev: Michall Jeffers) open run
The Fantasticks (Snapple Center, rev: Richmond Shepard) open run
Fuerza Bruta (Daryl Roth Theater, rev: Richmond Shepard) open run
Gazillion Bubble Show (New World Stages, rev: Richmond Shepard) open run
HIR (Playwrights Horizons, rev: Michall Jeffers) to 12/6/15
My Son the Waiter (Stage 72, rev: Richmond Shepard) to 1/3/16
Ripcord (MTC at City Center, rev: Elizabeth Ahlfors) to 12/6/15
The 39 Steps (Union Square Theater, rev: Elizabeth Ahlfors) open run
Trip of Love (Stage 42, rev: Michall Jeffers) open run
Awake and Sing (Odyssey Theater: Los Angeles, CA, rev: Willard Manus) to 11/29/15
Bye Bye Liver (Public House, Chicago, IL, rev: Mary Shen Barnidge) open run
Chapter Two (Windy City Playhouse, Chicago, IL, rev: Mary Shen Barnidge) to 12/20/15
Cupid has a Heart On (Stage 773, Chicago, IL, rev: Mary Shen Barnidge) open run
`57 Chevy (Latino Theater Co. at LATC, Los Angeles, CA, rev: Willard Manus) to 12/6/15
Guys on Ice (Milwaukee Rep, Milwaukee, WI, rev: Anne Siegel) to: 1/17/16
Handle with Care (Boulevard at Plymouth Church, Milwaukee, WI, rev: Anne Siegel) to 11/29/15
The Kill-or-Dies (McCadden Place Theater, Los Angeles, CA, rev: Willard Manus) to 12/13/15
Kiss Kiss Cabaret (Uptown Underground, Chicago, IL, rev: Mary Shen Barnidge) open run
Nat Turner: Following Faith (Theatre/Theater, Los Angeles, CA, rev: Willard Manus) to 12/6/15
Need to Know (Rogue Machine at Theatre Theater, Los Angeles, CA, rev: Willard Manus) to 12/13/15
One Man, Two Guvnors (Florida Studio Theater, Sarasota, FL, rev: Marie J. Kilker) to 1/10/16
Outside Mullingar (Geffen Theater, Los Angeles, CA, rev: Willard Manus) to 12/20/15
The Painted Rocks at Revolver Creek (Fountain Theater, Los Angeles, CA, rev: Willard Manus) to 12/14/15
Pilgrim's Progress (A Red Orchid Theater, Chicago, IL, rev: Mary Shen Barnidge) to 12/13/15
The Raid (Jackalope Theater, Chicago, IL, rev: Mary Shen Barnidge) to 12/12/15
Straight White Men (Kirk Douglas Theater, Los Angeles, CA, rev: Willard Manus) to 12/20/15
Toys: A Dark Fairy Tale (Hudson Guild Theater, Los Angeles, CA, rev: Willard Manus) to 12/13/15
West Side Story (Asolo Rep, Sarasota, FL, rev: Marie J. Kilker) to 12/27/15
Wicked(national tour at Marcus Center, Milwaukee, WI, rev: Anne Siegel) to 11/19/15